Michael Auger
Michael Auger (last name pronounced: O-'zhA / rhymes with okay) is a freelance artist based in the Washington DC area. His offbeat acrylic paintings are unapologetically bold, colorful, and fun. They feature an assortment of animals, crazy characters, mythical monsters and more and appeal to the young at heart.
How long have you considered yourself an artist?
I have considered myself an artist my entire life. From a very early age I filled my bedroom walls with drawings and created picture books using the back sides of my father's government reports.
What things inspire you to create art?
I am inspired most from the dreaming world. My dreams provide an unlimited, fantastic and strange supply of source material.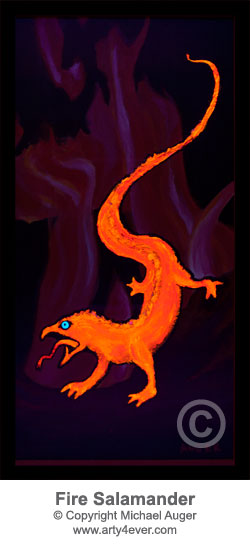 What are you trying to convey through your art? What does it mean to you?
I believe that the true test of art is how successfully it makes you feel something. It can be any emotion and I appreciate all different types of art. My goal is to make people happy. I enjoy creating paintings of an assortment of characters that are usually quite offbeat and make you want to smile or sometimes even laugh. After a long day it's nice to come home and look up and there, framed nicely on the wall, is a silly looking cartoon animal that looks just about as frazzled as you have been. The message I try to convey is that you aren't alone. We are all in this together. Smile and enjoy life.
Tell me about influences, if any:
I am most influenced by my wife who is both my biggest fan and toughest critic. I am also inspired by many amazing artists who I am sure have all had some level of sway in my sub-conscious. Some of my favorites include Matt Groening, Jim Henson, John Kricfalusi, Ronald Searle, Ralph Steadman, plus many more.
Tell me about your creative process, from the beginning of a work to its completion:
I often have strange dreams full of vivid color and this has a major influence on my artwork. I fill up sketchbooks full of stream-of consciousness doodles and then at a later time I will go through and decide which of these sketches I'd like to develop further into paintings. Then, I'll sketch some more and transfer to canvas or board. Finally, I decide on a color palette and paint until my wife tells me to stop.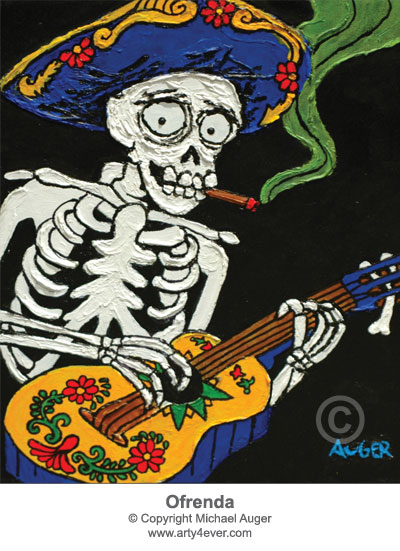 Do you have any advice for emerging artists?
My advice is to practice as often as you're able. Experiment with different techniques and develop a diverse portfolio. Then focus on what you enjoy the most. It is very important to never sell yourself short. Research the appropriate rates to charge for your work and be cautious not to be taken advantage of.
How do you promote your art both on and off the internet?
Word of mouth is the best form of promotion. I try to tell everyone I meet about my latest adventures in art and try to participate in lots of events to keep in the eye of the public. Online I promote myself through my website and various social media platforms.
How to follow Michael Auger online…
Available on Amazon: