Located in Indianapolis, Indiana, Robyn specializes in creating Mixed Media, Abstracts and Altered Art.
Formerly a professional belly dancer until a horrible motorcycle accident ended the
dancing
and
put her
into a wheel chair,
Robyn Ann Weinrib
fell into a terrible depression until she became angry and determined enough that,
"in spite of the doctors saying I'd never walk again I hired a physical therapist and walked.. for 20 years. I'm back in the wheelchair but a much happier camper as I found another creative outlet and that is Art."
In direct relation to art she says,
"I overcame depression because of art...

I want to try to help anyone who might be facing some adversity.. Maybe my story will help someone."
Tell me about your first experience creating art.
My first experience was finger painting as an adult.. I love it so much. It brought me out of my depression to seek out more ways of making art.
How long have you considered yourself an artist?
Only three years. There have been many artists I met the last few years that have been a big influence, mostly my teachers.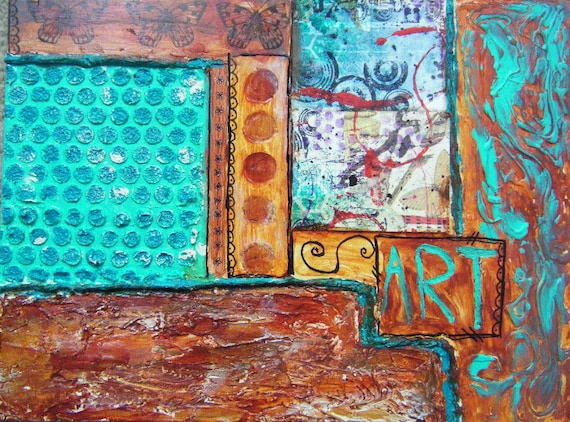 Butterfly Reunion, Mixed Media Clayboard Creation
What things inspire you to create art?
Taking online work-shops, viewing other peoples' work, nature and reading books on art. It all comes from my heart
Tell me about your creative process.
I work with Acrylics, Neo Color Crayons, Watercolors, watercolor pencils and anything else I can get my hands on. If I'm doing a whimsy gal I'll just draw her on my substrate. Sometimes this takes hours. Then I use my Neo Color crayons and block in her face. I use a real watery glaze of Titanium white next and then after that I just do my shading. It's a very minimalist approach compared to other artists.
What exposure do you have for your art?
I own an online art group and Etsy. I also promote my creations in some small craft stores in my neighborhood
What is the most annoying remark made to you about your art?
When someone just says "It's nice," that means in my head that they don't really like it.. it annoys me because they should just tell it like it is.
Have you sold any of your artworks?
Yes, a few for friends who commissioned me.
What Will it Take
I own an online store for scrap-booking and art supplies, the
Outlaw Women Scrapbook Emporium
, where you pay under-retail prices. I own a large art group and
Facebook group
and am currently configuring a showroom/shop for people like me who aren't all that seasoned to sell their artwork and crafts... it is for women. I'm back in the wheelchair but happier then hell because of art.
all images © Robyn Ann Weinrib