Victorian Romance
Michelle Tomlinson
o
wner and artist for Shadez of Michelle and Suzanne Michelle Illuminations in Crown Point, Indiana
originally started off re-creating vintage lighting for her clients in 1990. In
2007 she introduced Suzanne Michelle Illuminations, Illuminated Heirloom Art which is a selection of very special numbered and dated vintage lighting pieces that have been re-crafted as illuminated focal art.
She also has a comic strip, coloring books and children's books called Dandelion Soup.
Michelle is excited to be talking about her newest invention, Shower Curtain Bling in this article.
Shower Curtain Bling on Etsy
Fun fact: Shower Curtain Bling was invented on the privy.
Please tell me a little about your style.
In lighting, Victorian is my favorite, but I craft everything from Victorian to Traditional style lamps and lamp shades. Shower Curtain Bling, is pretty much the same, we are developing it to accommodate every decorating style. My Dandelion Soup comic strip is for everyone with the exception of the children's books and coloring books.
Twirp Loves Toe Socks:
a fun children's adventure book
conveying the lesson of taking responsibility
In 2008 I started developing a comic strip out of characters that I created when I was 17. I have obtained US copyrights on all of it. Dandelion Soup is a lighthearted comic strip focusing on funny observations I have encountered throughout my life brought to you through a community of characters that live beneath the dandelions in my back yard. It can be enjoyed by young and old alike. The coloring books and children's books are again lighthearted fun with a few lessons thrown in for the kiddies.
Meet Shelly, from Dandelion Soup
Just what is Shower Curtain Bling?
In early 2012 after finishing a lamp shade project for one of my clients, I had a few strands of left over hand beaded fringe laying around my studio. As I am always creating, I would take a trip to the privy and daydream of how I could use those strands to enhance the look of my shower curtain. The result was dazzling! Once I installed my new creation, I could never go back to just a plain shower curtain. Hence, Shower Curtain Bling was born.
Shower Curtain Bling is a removable, reusable decorative accent for your shower curtain. It attaches directly to any existing shower curtain and will instantly transform your drab design into a glimmering work of art. Shower Curtain Bling comes in a variety of styles. It can be stunningly elegant, hip and trendy, or even fun and festive. The possibilities are endless.
What things inspire you to create art?
The details and workmanship in a beautiful vintage lighting piece is my inspiration for my Illuminated Art.
Life is my inspiration for my Dandelion Soup comic strip, and just loving to create beautiful things is my inspiration for Shower Curtain Bling.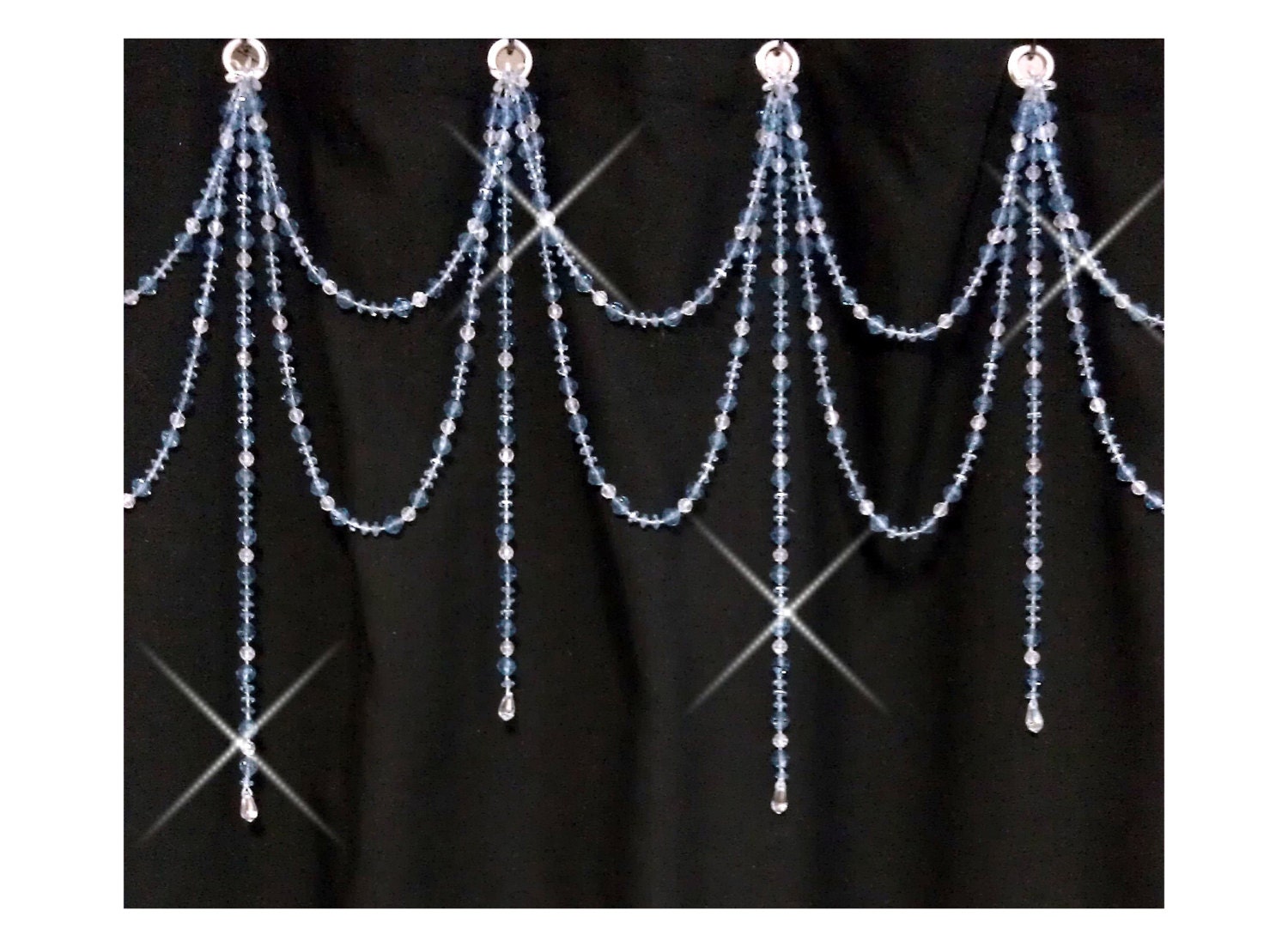 Shower Curtain Bling Crystal Double Swag with Alt Strand
What do you hope to accomplish with your art?
I want to preserve the history of vintage lighting by giving it a new life in the present in the form of an Illuminated Art Piece.
I want to share the fun parts of my life through Dandelion Soup, and I want everyone to enjoy Shower Curtain Bling.
all images © Michelle Tomlinson
Tell me about your influences.
1920's and 1930's elaborately styled floor lamps, table lamps, chandeliers and sconces are like treasure to me. M
y comic strips were influenced by my artistic mother, my sister, my personal experiences and my love for comics in general.
My other endeavors have been influenced by life as it happens.
Tell me about your process of creating a work from start to finish.
I am a collector of vintage lighting. The more detail in the piece the better. Most pieces during that time period were made up of cast, marble, brass, or porcelain and many of those pieces become damaged over time. My passion is to strip them, rebuild them and create a new vintage lighting piece, usually with some form of handcrafted lamp shade to match. Most lamp shade crafters stick to lampshade paper or fabric when creating. I love texture and color, so I like to go with mixed mediums.
What exposure have you had?
Over the years, I have done presentations of my work at local gatherings, I have created special pieces for channel 56 in Hobart Indiana, made lamps and fixtures for restaurants, hospitals, home interior designers, parade of homes, charity events and many clients nation wide.
What is the most annoying remark made to you about your art?
I don't think I have had any that I did not take as constructive criticism. I suppose the thing I might take offense to is the value someone might place on my item compared to the cost of materials and labor involved. Many of my Illuminated Art creations take up to one month to complete. I don't think I could ever become a quilter, but I have a huge respect for the time and effort put into creating one.
What do you regret in your life as an artist?
I wish I would have had more art-focused education in collage.
What should we expect to see in your art yet to come?

I will never give up re-creating vintage lighting, whether they will sell for the time and materials that I put into them doesn't matter. If they don't sell, they will be gifts or help with charities. Shower Curtain Bling products are still in development and our goal is to be able to bring them to a much larger market. Dandelion Soup will be growing as well with more books, comic books, clothing, etc....
Do you have any advice for emerging artists?

Being an artist is a brutal existence, but you will never be happy doing anything else. Try to give your brain a rest at the end of the day because it is very hard to sleep when your creative juices are flowing. Take as many art classes as you can.
Tell me something of special interest in your life that relates to your art.

Dandelion Soup evolved from characters that I created when I was 17, in addition to a month's worth of digging up 3000 dandelions out of my yard resulting from an infestation after a particularly hard drought.
How do you promote your art both on and off the internet?

I am involved in many local charity's and have sold my lamps in several local businesses as well as on our internet sites. I am also in the Dex Yellow Pages.
Please check out Michelle's Shower Curtain Bling shop on Etsy as well as "like" her Shower Curtain Bling Facebook page.
How to find Michelle Tomlinson online….